Italia Creativa
All over the world, the Italian Cultural and Creative Industry is synonymous with excellence; however, today its value is not sufficiently acknowledged. At its second edition, Italia Creativa aims to portray this Industry from a comprehensive perspective. Italy notoriously enjoys a prestigious past, legacy of a people who continuously contributed to shape a cultural and creative heritage that has no parallel around the world. Italia Creativa began with the intent to quantify the current value of the sector, thus laying the foundations for any valorisation efforts. Creativity and culture generate significant economic and social value, both in terms of business volume and employment, but should be further supported if we want them to unleash their full potential.
One year after the first study, Italia Creativa has committed to undertaking a quantitative and qualitative analysis of the sector, in continuity with previously adopted methodology and criteria. This new edition also aims to be more proactive, focusing on two major issues of common interest for the whole Italian Cultural and Creative Industry: current threats and untapped growth opportunities. Moreover, the study brings new insight into players and supply chains of each analysed sector.
To this end, the foremost associations and industry representatives were once again involved. In fact, a study of such magnitude and with such high aspirations would have been impossible to achieve without their contribution.
Key figures 2015
The Creative Industry is worth almost 48 billion euros…
In 2015, the Italian Cultural and Creative Industry reached a total economic value of 47.9 billion euros. Direct revenues represent 86% of this value, coming from activities such as design, production and distribution of cultural and creative works and services. The rest results from indirect revenues, related to collateral or subsidiary activities.
… and employs more than one million people
The creative sector employed in 2015 more than one million people, the 86% of whom in direct activities. With around 880,000 jobs, direct workers of the Italian Cultural and Creative Industry account for 4% of the entire Italian workforce.
Estimates of the untapped potential of the sector are encouraging
The estimates show that the current economic value equals two thirds of the amount the Cultural and Creative Industry could generate if growth opportunities were pursued and threats effectively countered. Since the economic value was about 48 billion euros, the potential value could reach 72 billion euros, meaning that there still exists an untapped value of around 24 billion euros.
Furthermore, the Cultural and Creative Industry could generate more than 500 thousand additional jobs, going from 1.03 million to 1.6 million: a growth rate greater than 50%.
Revenues in the Italian Cultural and Creative Industry grow more than national GDP
The growth rate experienced by revenues in the Cultural and Creative Industry in 2015 was higher than in 2014; most notably, it was higher than national GDP growth in the same period. There was in fact a 2.4% increase in direct revenues (or 951 million euros), compared to a 1.5% increase in Italian GDP.
Direct employment increased twofold compared to Italian average
In 2015, direct workers of the Cultural and Creative Industry increased by 1.7% (or 15,000 units) compared to the previous year, a growth rate higher than that of overall employment in Italy (0.8%).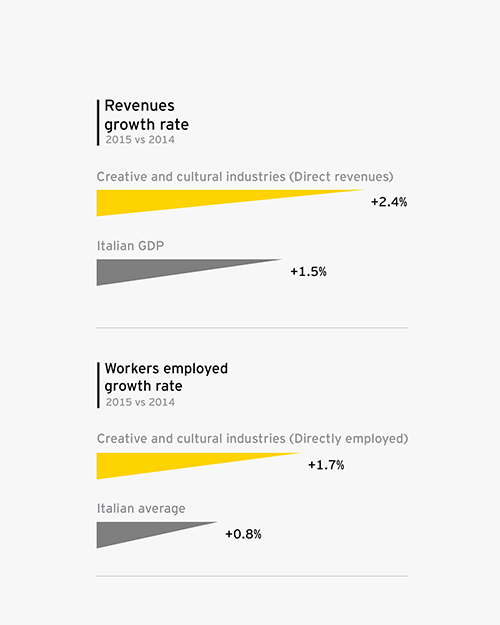 Italia Creativa's Ten Sectors (2015 values)